Price: ₹999.00 - ₹607.00
(as of Dec 02,2022 18:02:30 UTC – Details)
Product Description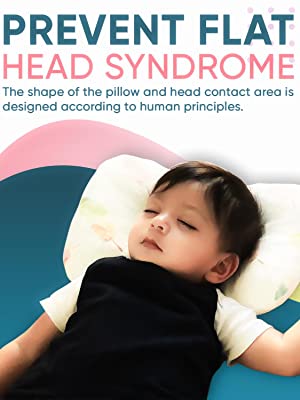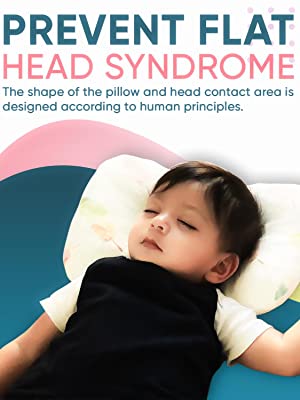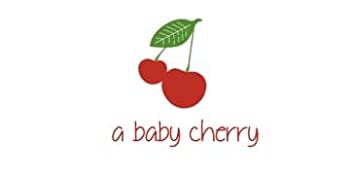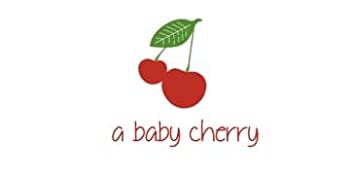 The Story of A Baby Cherry that Created a Reliable Brand
In India we have our manufacturing facilities and distribution centers, we pride ourselves on developing products that support families.
Each A Baby Cherry product is created with passion, precision, and pride. Materials are sourced through our socially responsible facilities before transforming into your beloved must-haves. Products must exceed all safety standards and pass inspection before we are satisfied.
Introducing A Baby Cherry Baby Pillow!

A Baby Cherry Pillow is the solution to prevent plagiocephaly, known as a flat-head syndrome. The newborn head pillow is soft and supple. It provides a great deal of comfort while still giving the essential support to keep your infant's head in proper alignment.
We believe in Power Of Giving
With each product sold, we donate meals for one week to a child
Eliminate classroom hunger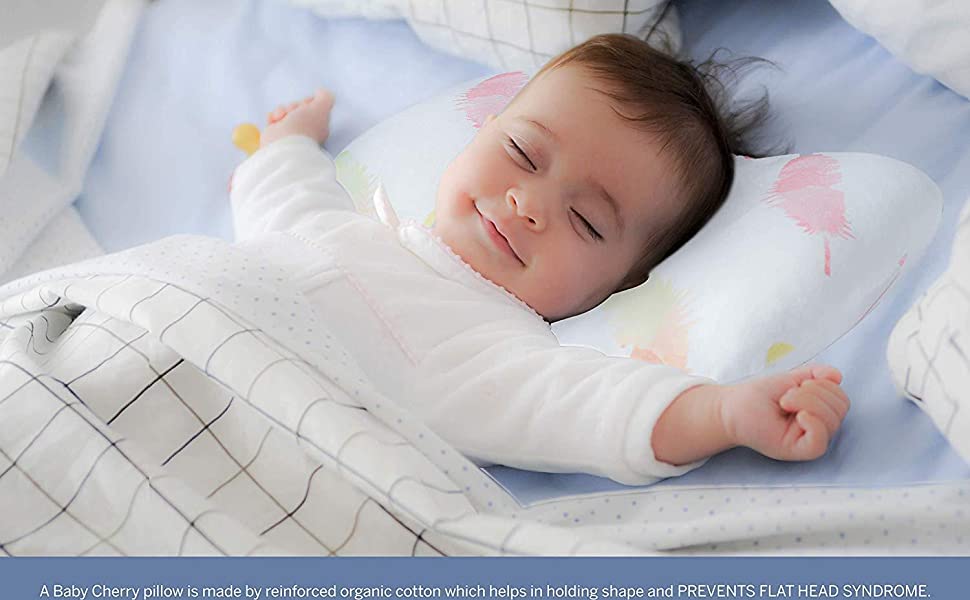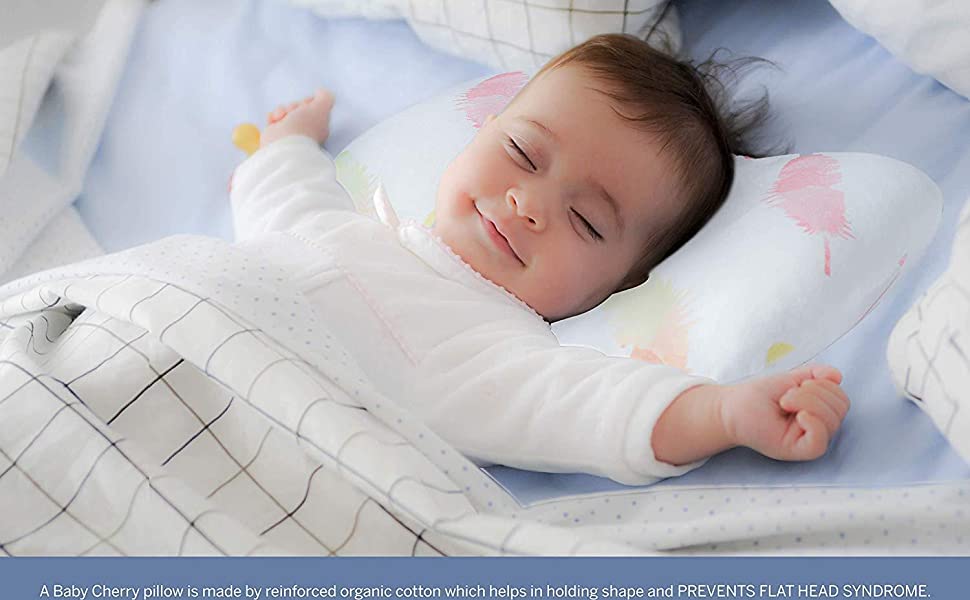 Happiness All Around

DESCRIPTION:
Perfect choice to prevent baby's flat head syndrome and plagiocephaly.Premium memory foam material, soft and smooth, specially designed for newborns with ergonomic shape and inclination.Viscoelastic foam (memory foam) makes sure there is not too much pressure on the baby's head.Practical. It can be used both in the cradle, bed, stroller. Portable to travel.Don't wash memory foam core.Please keep it clean and dry.Pack list: 1 * Newborn Pillow; 1 * Cotton Fabric Pillow Cover.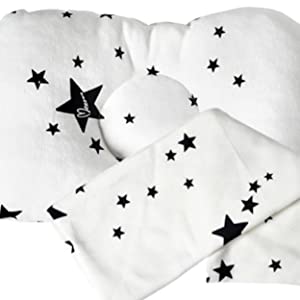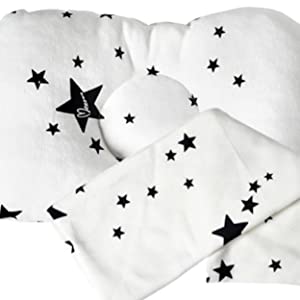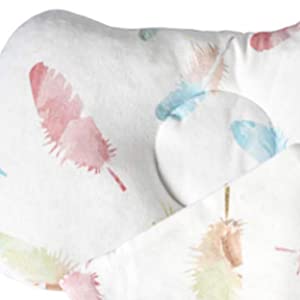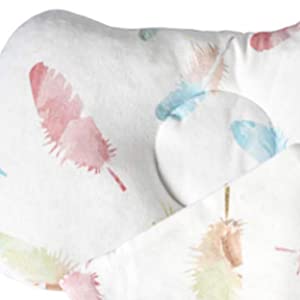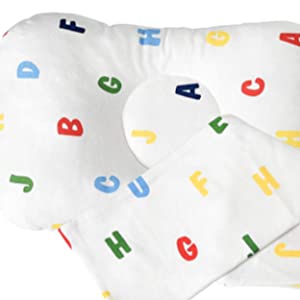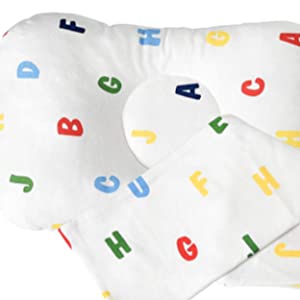 Different Style Pillow-White (Stars)
Sweet Dreams Always
Our mission is to inspire modern parents to build strong parent-child bonds and create wonderful moments together. We believe that through strong parent-child bonds, parents can create a loving & inspiring environment to nurture their child's full potential
Different Style Pillow-White (Feathers)
100% Cotton
Made of Cotton, Hypoallergenic & Free of Toxins & Fluorescent Agents with a soft smooth surface that is gentle to your baby's skin. Please be careful of cheap memory foam made with toxic chemicals:
· Machine wash your pillowcase separately in cold.
· Air dry to keep it fluffy.
Different Style Pillow-White (Alphabets)
Quality Memory Foam
The pillow core is made of high-density memory foam, is chemical-free and contains no toxic or harmful ingredients. The slow rebound memory foam of 3-5 seconds provides good support for the baby and brings stress-free sleep.
Q: Why Choose Flat Head Pillow For Newborn Baby?
A: Most new parents ignore that the flat head syndrome caused by incorrect sleeping posture leads to babies' difficulty breathing and sleep. They lie down uncomfortably and can't move their head as well. A baby sleeping pillow is designed for providing the greatest comfort and preventing flat head syndrome. Memory foam newborn pillow maximally relieves the pressure on the head while sleeping.
EXCELLENT GIFT TO LOVED ONES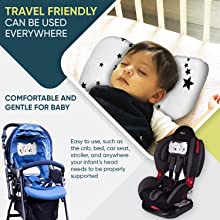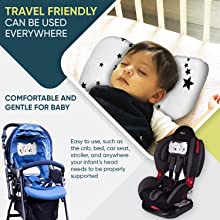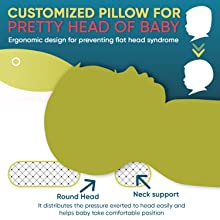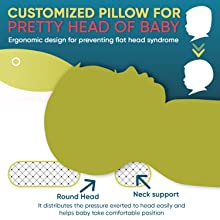 Multiple Places of Use
A Baby Cherry pillow is not only used on the bed, you can put it in the baby stroller, baby cradle and other places where the baby needs to rest often. The baby often uses the styling pillow to make the baby's head shape return to normal faster
Ergonomically Designed
Our Toddler Pillow is sized at 21″X 32″ which makes it perfect for travel, pre-school naps, bedtime and lovey.
Cute prints will be loved by your toddler, adding fun and imagination into your child's nursery. Suitable for boys and girls.
A Baby Cherry Tips:
Learn about alphabets and phonics.
Superior Quality Easy Mesh Pillow
A Baby Cherry 3D Air Mesh is constructed with series of pillars between the top and bottom layer creating space where air can circulate easily and provide soft cushion at the same time. Also easily recovers to it's original shape and maintain pillow's cushion even after long period use.
Washable Pillowcase
The pillowcase is made of cotton with good moisture absorption and heat resistance. It is comfortable and soft. It absorbs moisture into the surrounding atmosphere and promotes cool airflow. It does not contain chemicals and is very easy to clean. You can wash it by hand or use a washing machine.
✔ 👍 GREAT FOR BABY HEAD AND SUPPORT SPINE – Designed for newborns, infants. Ergonomic design with ideally sized and positioned indentation to gently cradle the head & distribute pressure evenly to resist any flat spots from forming and allow for existing flat spots to round out. Our baby head shaping pillow supports neck, head & back alignment. We made our baby pillows for sleeping.
✔ 💕 PREMIUM QUALITY – Made of Cotton, Hypoallergenic & Free of Toxins & Fluorescent Agents with a soft smooth surface that is gentle to your baby's skin. Please be careful of cheap memory foam made with toxic chemicals.
✔ 😊 MOST COMFORTABLE PILLOW – Our lightweight and compact baby flat head pillow can easily double as a stroller pillow, lounger cushion, bassinet or crib pillow and as a tummy time pillow! You can easily slip it in your diaper backpack or bag and you're good to go!
✔ 🆘 EQUAL HELP COMPANY PRODUCT – A Baby Cherry commitment to help society reflects in our pledge to provide nutritious food to 1 child for whole week when you buy 1 of our product, Equal Help! Help us feed one child at a time.