Price: ₹16,970.00 - ₹11,990.00
(as of Feb 03,2023 15:05:23 UTC – Details)
Product Description


BabyTeddy 9 in 1 Multi-functional crib is made up of solid original New Zealand pine wood with excellent quality of craftsmanship which is carefully designed making it mom friendly, safe for baby and has smooth silk finish and golden scratch resistant mirror polish which will surely bring a stylish look to your baby nursery.
BabyTeddy Crib is sturdy and is thoughtfully designed to be multi functional which will be a lifetime companion of your kid.


Excellent quality of craftsmanship
BabyTeddy crib is made up of original solid New Zealand pine wood with excellent quality of craftsmanship which is invented to suit all your baby's needs at every stage.
BabyTeddy Crib Features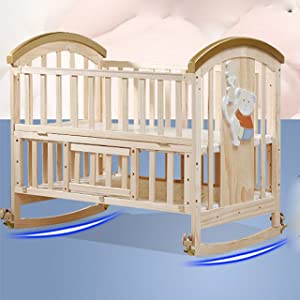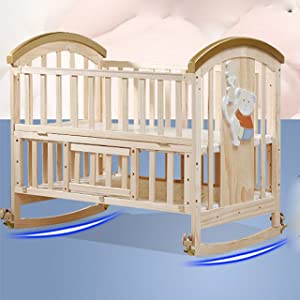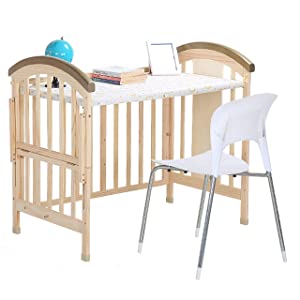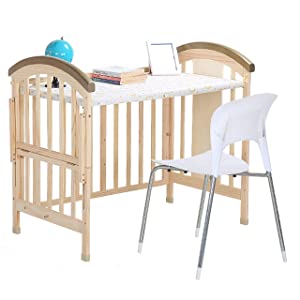 Big Storage
BabyTeddy Crib lets you to keep diapers, cloths, toys, grooming kit etc. organized and handy in the huge storage provided below the crib.
Rocking Function
Its soft rocking function is scientifically designed and requires just your gentle touch which makes baby feel like it's in mom's arms and dozes off to sleep hassle free. So now forget using age old method of putting baby to sleep on lap which almost takes all of new mom's energy. Its not like electric swing which causes Shaking Baby Syndrome in new born babies and its strongly suggested to avoid electric or magnetic swings for new born.
Desk Function
It has a smooth silk finish and natural colour with touch of golden colour (scratch resistant, mirror polish) which matches with almost all the existing furniture in your room. It makes a perfect desk for many years ahead, preserving all your precious memories with your little prince/princess. It can be also be converted into children's stylish Sofa for those little friends he/she will bring to their room.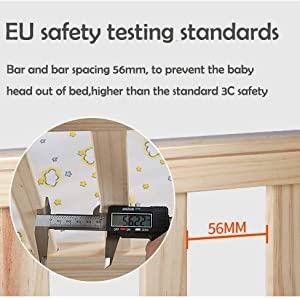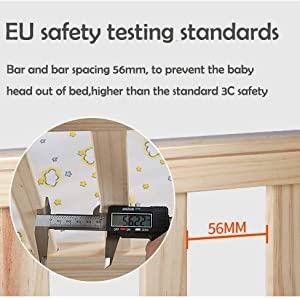 Safety Standards
BabyTeddy Crib meet all the European baby safety standards and is made up of original solid New Zealand Pine wood which will survive all your soon to be little ninjas strong kicks(which starts around 6 months and gets stronger ever month) and will be steady playpen for your jumping hyper active toddler:)
Don't worry about wood burr or hazardous toxic wood paint or polish as it is of natural wood color. Also teeth railing is provided for extra safety as babies tend to chew when they are teething.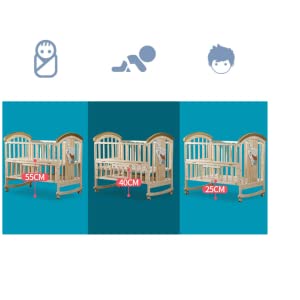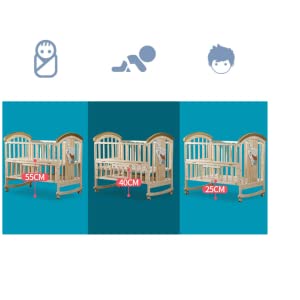 BabyTeddy Crib Camparison
BabyTeddy knows that its just a matter of time that your baby will be a year old and that's when you will need the crib most to sleep train and to use as playpen so its designed big enough so that your toddler will be safe and wont cross over the crib also it can be extended and can be used to sleep your baby till 6 years and later as desk forever!
High Quality Baby Friendly Foam Mattress
This Crib has soft bed board and comes with high quality baby friendly foam mattress with washable cover plus split fresh white mosquito net with stand
It has a smooth silk finish and natural color with touch of golden color (scratch resistant, mirror polish) which matches with almost all the existing furniture in your room. No headache of resale when baby grows up, it makes a perfect desk for many years ahead, preserving all your precious memories with your little prince/princess. It can be also be converted into children's stylish sofa for those little friends she will bring to her room
The bed can be extended with 1.5 feet when baby grows up.this crib has soft bed board and comes with high quality baby friendly foam mattress with washable cover plus split fresh white mosquito net with stand
For crib installation video please search BabyTeddy crib installation video Youtube
Its soft rocking function is scientifically designed and requires just your gentle touch which makes baby feel like its in moms arms and dozes off to sleep hassle free. So now forget using age old method of putting baby to sleep on lap which almost takes all of new moms energy. BabyTeddy crib lets you to keep diapers, cloths, toys, grooming kit and so on. Organized and handy in the huge storage provided below the crib